The Vitality-Health-Check Platform
The Vitality-Health-Check is a novel portable professional health monitor. It allows to generate reliable results regarding important health-status parameters at any point of care. Some of its key features you can find below:
Run multiple tests on one platform
Target relevant health parameters
Fits in any pocket
Cost effective
Results within seconds
Clear semi-quanitative and quantitative measurements
Straightforward client consultation
Small sample sizes
Samples: capillary blood, sputum, urine
Detects low signals not visible to the human eye
Battery operated
Electronic documentation
Interface for data management
Professional user groups
Versatile monitor
The Vitality-Health-Check monitor can read all kind of lateral flow or other strip based tests that show their results with a visible line. Every test available on the platform has been specially adjusted in order to come up with reliable test results dedicated for professional use in health monitoring and consultation.
The evaluation can be performed anywhere, as the monitor itself is battery operated and fits into any pocket. Results are stored and may be transfered digitally when required.
Datamanagement
All data stored on he reader may be transferred with the DataReader software that came with the Vitality Health Check Monitor.
Install software on a PC (see manual).
Use reader specific USB-cable included with the reader to connect with the PC.
Start DataReader software in order to capture and manage all data stored on the reader.
See manual for further information about the software functionality.
Diagnostics -inhouse using rapid test
D Vitamin rapid test
The Vitality-Health-Check Quantitative Vitamin D Test utilizes the principle of immuno chromatography, a unique two-site "Sandwich" immunoassay on a membrane. The test employs a very "Exclusive" pair of anti-25-0H Vitamin D Monoclonal Antibodies; one conjugated with colloidal gold and another one immobilized on the solid phase. This will selectively detect Vitamin D with a high degree of sensitivity and specificity.
As the test sample flows through the membrane assembly within the test device, the colored anti-25-0H Vitamin D-colloidal gold conjugate complexes with 25-0H Vitamin D from the sample. This complex moves further on the membrane by the capillary action to the test region (T) where it is immobilized by another anti-25-0H Vitamin D coated on the membrane, leading to formation of a pink / purple colored band, which confirms a positive test results. The intensity of colored band in the test line region is 25-0H Vitamin D concentration-dependent, higher the concentration of 25-0H Vitamin D in the tested sample, the stronger the colored band is. A control line is present in the test window to work as procedural control. This colored band should always appear on the control line region (C) if the test device is stored in good condition and the test is performed appropriately.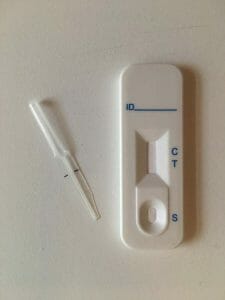 HOW TO RUN THE TEST
A small sample of 10 microliter capillary blood (from fingerprick) is required to run the test.
The sample is given on the sample pad of the lateral flow device and immediately thereafter 3 drops of test specific buffer are added.
EVALUATION
After exact 15 minutes the result is to be read of with the Vitality-Heath-Check reader in order to generate most accurate results.
About D-vitamin
Vitamin D refers to a group of fat-soluble secosteroids responsible for increasing intestinal absorption of calcium, iron, magnesium, phosphate, and zinc.
Very few foods contain vitamin D; synthesis of vitamin D (specifically cholecalciferol) in the skin is the major natural source of the vitamin. Dermal synthesis of vitamin D from cholesterol is dependent on sun exposure (specifically UVB radiation). [Source: Wikipedia, 2016]
Vitamin D is a steroid hormone responsible for enhancing intestinal absorption of calcium and the regulation of its homeostasis. The two common forms of Vitamin D are Vitamin D2 and Vitamin D3. Vitamin D3 is naturally produced in the human skin through the exposure to ultraviolet light and Vitamin D2 is mainly obtained from foods. Vitamin D is transported to the liver where it is metabolized to 25-hydroxy Vitamin D. In medicine, a 25-hydroxy Vitamin D blood test is used to determine Vitamin D concentration in the body. The blood concentration of 25-hydroxy Vitamin D is considered the best indicator of Vitamin D status.
Vitamin D deficiency is now recognized as a global epidemic. Virtually every cell in our body has receptors for Vitamin D, meaning that they all require "Sufficient" Level of Vitamin D for adequate functioning. The health risks associated with Vitamin D deficiency are far more severe than previously thought. Vitamin deficiency has been linked to various serious diseases: Osteoporosis, Osteomalacia, Multiple Sclerosis, Cardiovascular Diseases, Pregnancy Complications, Diabetes, Depression, Strokes, Autoimmune Diseases, Flu, Different Cancers, lnfectious Diseases, Alzheimer, Obesity and Higher Mortality etc.
Therefore, now detecting (25-0H) Vitamin D level is considered as "Medical/y Necessary Screening Test ", and maintaining sufficient levels not just to improve bone health, but to improve overall health and well-being.
Multiple guidelines for Vitamin D deficiency have been published by various health organizations; but a common recommendation remained to be established.
Vitamin D – an important health parameter
Many therapists from various disciplines dealing intensively with Vitamin-D deficiency in various disciplines agree to this classification of the Vitamin-D Levels
| Vitamin D | Status |
| --- | --- |
| < 11 ng/ml | critical low |
| 11-30 ng/ml | deficient |
| 30-40 ng/ml | "normal" |
| 40-60 ng/m | good & protective |
| 60-90 ng/ml | very good |
| 90-150 ng/m | high |
| > 150 ng/ml | risk of intoxication |